My favorite item in this closet makeover?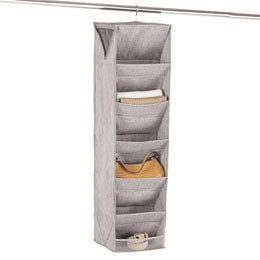 $24.99:
http://www.containerstore.com/shop?productId=10022389&N=&Ntt=%22eco+fabric%22+accessory+bag
It even swivels so you can get to the other side easier! And on the side it has little pockets you can stores small stuff in (like flipflops, cameras, keys, sunglasses, gloves)
Uses I immediately think of:
purses
toys
tools
gardening supplies
sweatshirts
scarves
gloves
towels
sheets
mail!
shoes
hats
magazines
books
See? Totally cool!
*Products mentioned in Product Friday posts are usually products I've not used personally but which I think will help readers function better. I receive nothing in return for these suggestions.